Michelangelo
The Drawings of a Genius
Until 9 January 2011
Between October 8th 2010 and  January 9th 2011, the Albertina presents the first major Michelangelo exhibition in more than twenty years. This display of 120 out of the artist's most precious drawings offers a comprehensive insight into the work of this great genius. The sheets come from the ALBERTINA Museum's own holdings, as well as from important European and American museums – the Uffizi and the Casa Buonarroti in Florence, the Louvre in Paris, the Metropolitan Museum of Art in New York, the Teylers Museum in Haarlem, the Royal Library in Windsor Castle (property of the British monarch) and the British Museum in London – and private collections.  
The exhibition spans from Michelangelo's earliest surviving drawings, his designs for the Battle of Cascina, and his studies for the vault frescoes and The Last Judgement in the Sistine Chapel to the refined drawings the artist presented to Tommaso de'Cavalieri and a number of late treatments of the Crucifixion. Michelangelo's drawings will be juxtaposed to examples of works by artists from the master's immediate surroundings (Giulio Clovio, Sebastiano del Piombo, and Daniele da Volterra), which is meant to demonstrate how clearly Michelangelo's drawings distinguish themselves in terms of style and ingenuity.  
It was three years ago that curator Dr Achim Gnann began his preparations for this exhibition. His goal is to review those datings of Michelangelo's drawings that have sometimes been considered controversial and elaborate on the evolution of the artist's style with utmost clarity.   

Michelangelo: Studies for the Libyan Sibyl (recto),
28,9 x 21,4 cm Red chalk
(New York, Metropolitan Museum of Art © 2009. The Metropolitan Museum of Art/Art Resource/Scala, Florence)

Michelangelo: Study of an Inclined Head and Detailed Eye Study,
35,5 x 27,0 cm Red chalk
(Florenz, Fondazione Casa Buonarroti)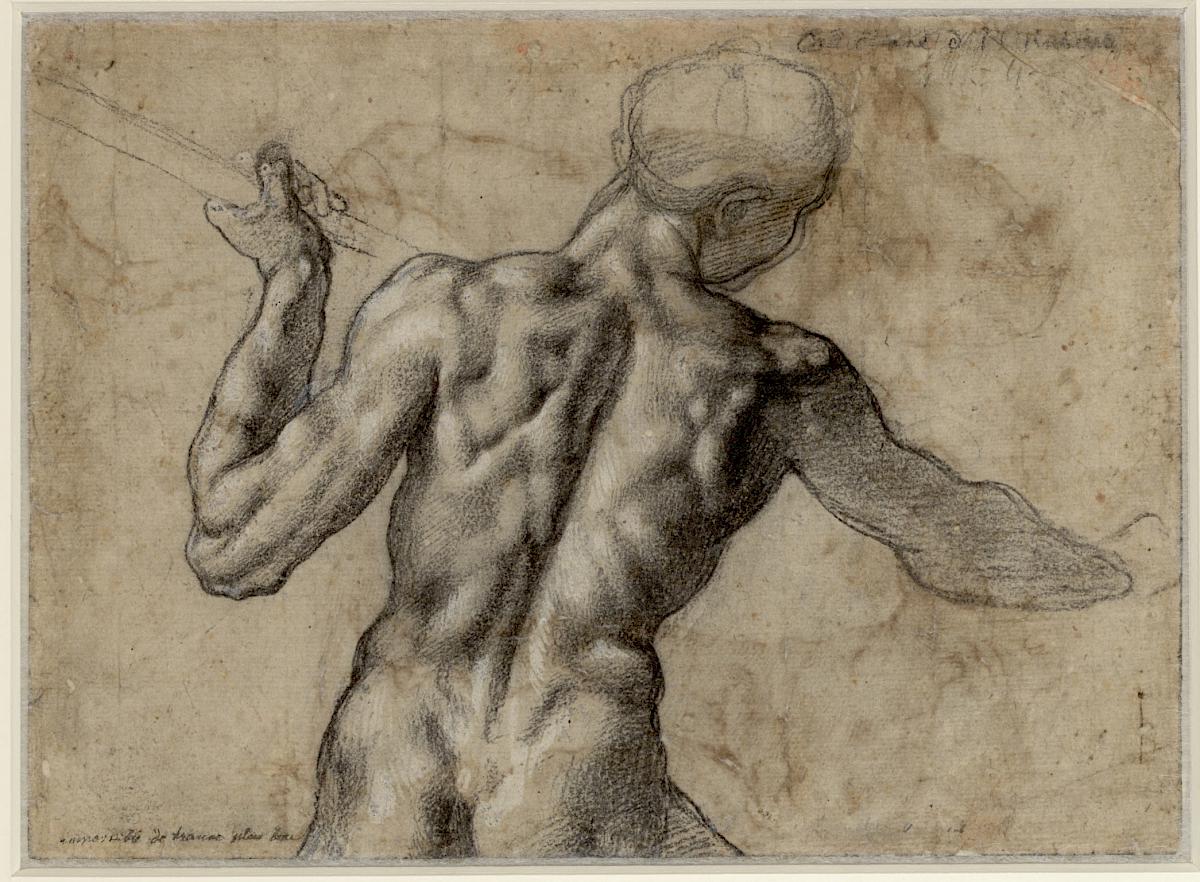 Michelangelo: Male Nude, Seen from the Rear (verso)
,
27.0 x 19.6 cm
 Black chalk, heightened with white 

(Vienna, Albertina)