Modigliani
The Primitivist Revolution
Until 9 January 2022
His entire life long, he was plagued by poverty, strokes of fate, drug excesses, and severe illness, with his earnings as an artist sufficing only to cover his rent and the barest necessities. But today, works by Amedeo Modigliani—a native of Livorno, Italy who died in his studio in 1920 at just 35 years of age—number among the most expensive, with individual paintings fetching nine-figure sums.

In view of his death's 100th anniversary, Vienna's ALBERTINA Museum is honoring Amedeo Modigliani (1884–1920) with a spectacular exhibition encompassing ca. 130 works from three continents. This showing, originally planned for the jubilee year of 2020, was postponed due to its importance and the pandemic: So it is only now that this fascinating, powerful artist will be featured for the first time in Austria. The present exhibition brings together major works from the most renowned museums and private collections all the way from the USA to Singapore and from Great Britain to Russia, with large numbers of works coming from the Musée Picasso in Paris and the collection of Jonas Netter, one of Modigliani's major patrons during his lifetime. The selection of works on exhibit serves to situate Modigliani within the context of a unique circle of avant-garde painters.

The story of Amadeo Modigliani, a painter and sculptor whose career and life met an early demise, could hardly be more dramatic: at the young age of 11, Modigliani suffered from a serious case of pleurisy. In 1898, at age 14, he contract typhus—an illness that was considered deadly at the time. Later on, he suffered from chronic tuberculosis—which ultimately cost him his life at the young age of 35. Two days following his death, his fiancée Jeanne Hébuterne (who was eight months pregnant) took her own life.

Art between archaic and avant-garde
On the one hand, Modigliani referred to the Renaissance in his works, but on the other hand, he also took up African, Egyptian, East Asian and Greek archaic art. The unique show at the ALBERTINA pays special attention to this lifelong exploration of the origins of art: Modigliani's oeuvre is juxtaposed with works by his counterparts Pablo Picasso, Constantin Brâncuşi and André Derain, as well as artifacts from prehistoric and non-European world cultures.

Modigliani's legend-steeped life and his crossing of artistic borders occupy a special place in art history—without his having been a forerunner or pioneer of anything in the strict sense. Embedded in Paris's Montmartre art scene, he engaged in exchange with the greats of his era and left behind for us impressive portraits of figures including Picasso, Matisse, and Diego Rivera—despite which he remained an undiscovered figure his entire life long. His success was hampered in part by the scandals caused by his supposedly pornographic paintings. Moreover, the Italian artist was ever the stylistic outsider and loner who pursued his own artistic ideals. And even so, his avant-gardist bridge-building between modern art and eras hundreds of years in the past continues to represent an outstanding and entirely individual contribution to art history.

This showing is being curated by art historian Marc Restellini, who edited the Catalogue Raisonné of the Paintings by Amedeo Modigliani.

On view from 17 September 2021 until 9 January 2022.
This exhibition is organized with the exceptional support of the Musée national Picasso-Paris.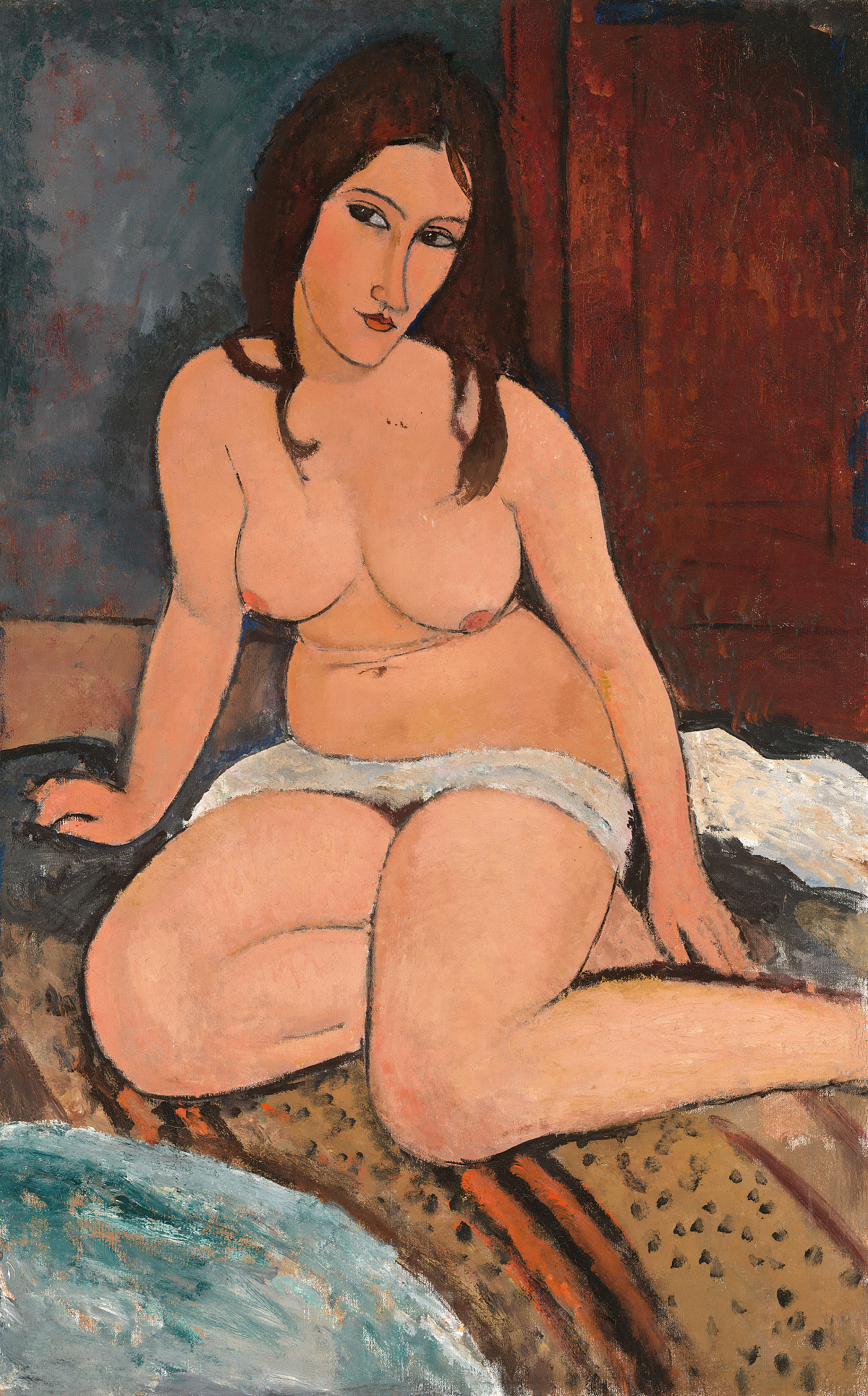 Amedeo Modigliani: Seated Nude (Detail), 1917
Oil on canvas
(Royal Museum of Fine Arts Antwerp, www.artinflanders.be)
Photo: Rik Klein Gotink

Amedeo Modigliani: Max Jacob, 1916/17
Oil on canvas
(Cincinnati Art Museum, Ohio, Gift of Mary E. Johnston)
© Bridgeman Images

Amedeo Modigliani: Caryatid with a Vase, ca. 1914
Watercolor, pencil, and blue colored pencil on paper
(Tate, Bequeathed by Mrs A.F. Kessler 1983)
© Tate, London

Pablo Picasso: Caryatid, 1908
Oak and paint
(© Succession Picasso / RMN-Grand Palais (Musée national Picasso-Paris) / Mathieu Rabeau / Bildrecht, Vienna 2021)

Amedeo Modigliani: Female Semi-Nude, 1918
Oil on canvas
(The ALBERTINA Museum, Vienna – The Batliner Collection)

Amedeo Modigliani: Léopold Zborowski, 1916
Oil on canvas
(© Fonds de dotation Jonas Netter)

Pablo Picasso: Bust of a Man (Study for Les Demoiselles d'Avignon), 1907
Oil on canvas
(Photo © Succession Picasso/Bildrecht Wien, 2021 / RMN-Grand Palais (Musée national Picasso-Paris) / Adrien Didierjean)

Amedeo Modigliani: Young Man with Cap, 1918
Oil on canvas
(© Detroit Institute of Arts / Bridgeman Images)

Amedeo Modigliani: Head, 1911/12
Sandstone
(© Minneapolis Institute of Art. Gift of Mr. and Mrs. John Cowles / Bridgeman Images)

Pablo Picasso: Head of a Woman, 1908
Gouache on paper
(© Succession Picasso / GDKE_Landesmuseum Mainz (Ursula Rudischer) / Bildrecht, Vienna 2021)

Amedeo Modigliani: Red-Haired Girl, 1918
Oil on canvas
(Private Collection)

Amedeo Modigliani: Jeanne Hébuterne, 1918
Oil on canvas
(©Fonds de dotation Jonas Netter)

: Jeanne Hébuterne, 1919
()
Photo: Fonds Hébuterne – Fabrice Gousset

Amedeo Modigliani: Chaïm Soutine, 1916
Bleistift auf Papier
(©Fonds de dotation Jonas Netter)

Amedeo Modigliani: Woman with Blue Eyes, ca. 1918
Oil on canvas
(©Musée d'art moderne de la Ville de Paris. Bequest of Dr. Maurice Girardin)

: Amedeo Modigliani, Pablo Picasso, André Salmon, 12.8.1916
(© Bildrecht, Vienna 2021)

: Female Head, Angkor, Bayon style, end of the 12th – beginning of the 13th century
Sandstone
(©Musée Guimet – Musée national des arts asiatiques, Paris. Photo: RMN-Grand Palais (MNAAG, Paris) / Michel Urtado)

Amedeo Modigliani: Diego Rivera, 1914
Oil on board
(© Kunstsammlung Nordrhein-Westfalen, Düsseldorf)

Amedeo Modigliani: Diego Rivera, 1914
Pencil on paper
(©Private Collection)

Amedeo Modigliani: Elvira with White Collar, 1917/18
Oil on canvas
(©Fonds de dotation Jonas Netter)

: Caryatid stool, Luba, Katanga, Shaba, Congo, before 1919
Wood
(©Royal Museum for Central Africa, Tervuren, Photo : J.-M. Vandyck, RMCA Tervuren)

Amedeo Modigliani: Moise Kisling, 1916
Pencil on paper
(©Private Collection)

Amedeo Modigliani: Self-Portrait as Pierrot, 1915
Oil on board
(© Statens Museum for Kunst, Kopenhagen)

: Female island idol of the Louros type, early Cycladic, 2800–2700 BCE
Marble
(©Skulpturensammlung, Staatliche Kunstsammlungen Dresden. Photo: Hans-Peter Klut / Elke Estel)

Amedeo Modigliani: Female Nude, um 1911
Black colored pencil on paper
(©Musée des beaux-arts, Rouen. Foto: C. Lancien, C. Loisel /Réunion des Musées Métropolitains Rouen Normandie)

André Derain: The Couple (The Twins; Man and Woman), 1907
Sandstone
(© VG Bild-Kunst, Bonn 2021/Lehmbruck Museum, Duisburg, Foto: Bernd Kirtz)

: Anthropomorphic mask, 19th century
Holz, Farbe, Kupferlegierung, Pflanzenfaser und Spiegel
(© Musée du quai Branly – Jacques Chirac, Paris, Dist. RMN-Grand Palais / Patrick Gries / Bruno Descoings (previously in the collection of Paul Guillaume))

Constantin Brâncuşi: The First Step, ca. 1914
Vintage silver gelatin print
(©David Grob Collection)

Constantin Brâncuşi: Study for The First Step, 1913
Chalk on Paper
(©Museum of Modern Art, New York. Benjamin Scharps and David Scharps Fund/ Scala, Florence)

Constantin Brâncuşi: Mademoiselle Pogany I, 1913
Polished bronze with black patina
(©Collection of the Speed Art Museum, Louisville, Kentucky, USA)

: Reliquary head, Fang, 19th century
Wood and brass
(©Sainsbury Center, University of East Anglia, Norwich (previously in the collection of Paul Guillaume))

Maurice Drouard: The studio at rue du Delta, 1913
()
Photo: Marc Restellini

: Moving from rue du Delta, 1913
()
Photo: Marc Restellini

: Modigliani's studio at Cité Falguière, ca. 1914
()
Photo: Marc Restellini

Cocteau Jean: Zarate, Kisling, Pâquerette and Picasso at Café de la Rotonde, Montparnasse, 1916
(© Bildrecht, Vienna 2021)

Duncan David Douglas: Picasso, Son Paulo and Jacqueline Roque,
(© © Succession Picasso/ Bildrecht, Vienna 2021)