Egon Schiele
Until 18 June 2017
To set the tone for the upcoming commemorative year of 2018, the ALBERTINA Museum is mounting a comprehensive exhibition of artworks by Egon Schiele that positions his radical oeuvre within an epoch characterized by a schism between the modernist and the traditional. 160 of Schiele's most magnificent gouaches and drawings will introduce viewers to an artistic oeuvre that highlights human beings' existential loneliness as its great theme while drastically opposing the values of fin de siècle society.
While Schiele is typically viewed as part of Vienna's turn-of-the-century artistic and intellectual elite, among personalities ranging from Mahler to Schnitzler, from Freud to Kraus, and from Altenberg to Hofmannsthal, this exhibition at the ALBERTINA is conceived according to a different principle: large photographs hanging in the air pit the artist's works against the reality of his environment, as a visible demonstration of just how out of sync the two were. The real backdrop represented by these photos makes clear the acute discrepancy between Schiele's output and the society amidst which he lived.




Publication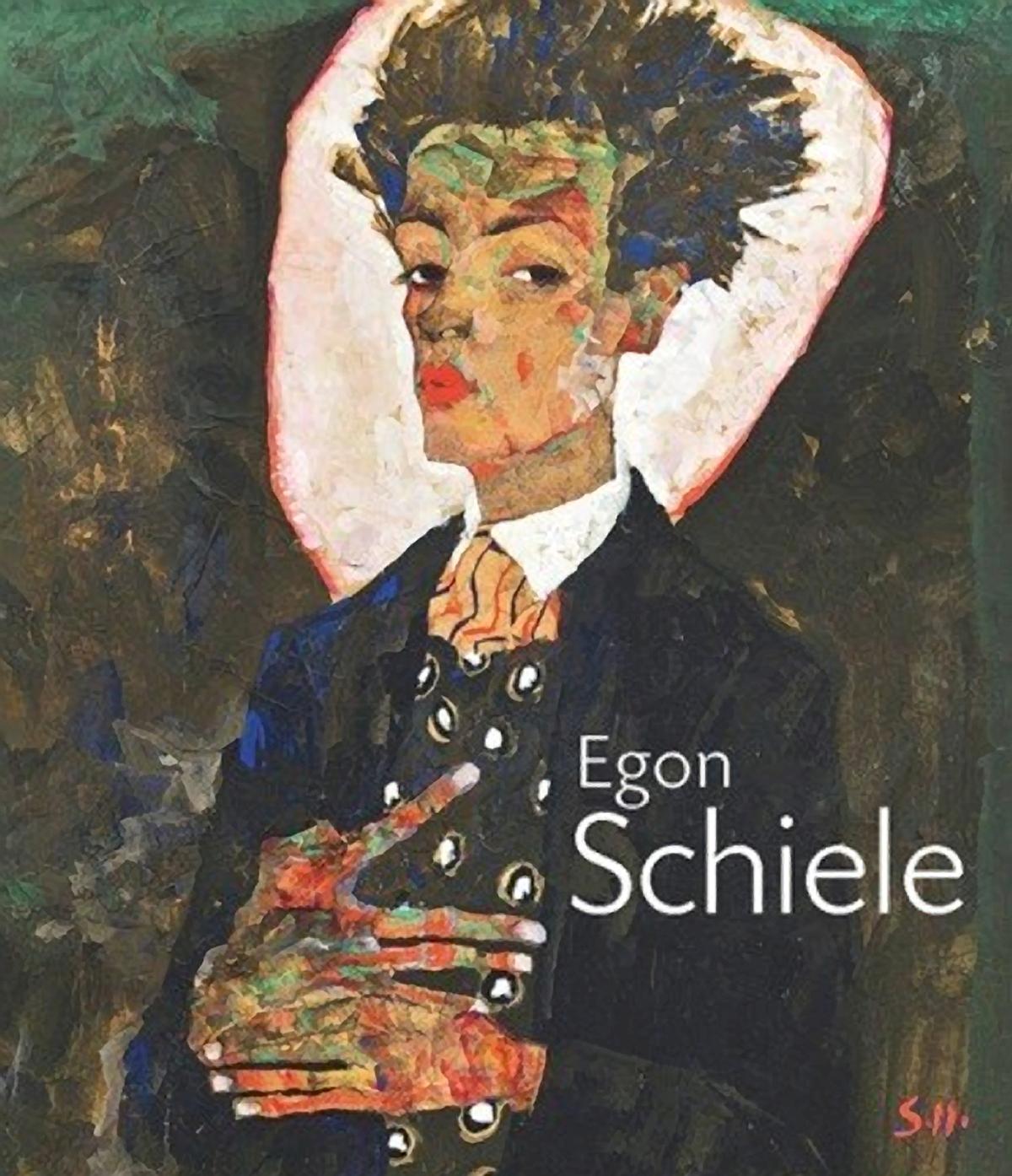 Egon Schiele
To mark the 100th anniversary of Egon Schiele's death, the ALBERTINA Museum is dedicating to the artist a comprehensive exhibition that positions his oeuvre in the electrifying context of Viennese society at the close of the Imperial era, with its uniquely intense clash between modernity and tradition.
Ed. by The Albertina Museum, Vienna
2017
380 pages
29 x 25 cm, Hardcover
German EUR 15,00


Egon Schiele: Self-Portrait with Peacock Waistcoat, 1911
Gouache, watercolor, and black crayon on paper, mounted on board
(Ernst Ploil, Vienna)

Anton Josef Trcka: Egon Schiele, 1914
Bromoil print on cardboard
(The Albertina Museum, Vienna)

Egon Schiele: Field landscape (Kreuzberg near Krumau), 1910
Black chalk, watercolor, opaque color on brown wrapping paper
(The Albertina Museum, Vienna)

Egon Schiele: Young nude girl in ochre cloth, 1911, 1911
Pencil, watercolor on primed Japanese vellum
(The Albertina Museum, Vienna)

Egon Schiele: Two Crouching Girls, 1911
Pencil, watercolor and white body color on Japan paper
(The Albertina Museum, Vienna)

Egon Schiele: Nude self-portrait, 1910
Black chalk, brush, watercolor, opaque color, opaque white on brown wrapping paper
(The Albertina Museum, Vienna)

Egon Schiele: Nude self-portrait, 1916
Pencil, opaque color
(The Albertina Museum, Vienna)

Egon Schiele: Old Houses in Krumau, 1914
Pencil and body color on Japan paper
(The Albertina Museum, Vienna)

Egon Schiele: Nude on her stomach, 1917
Black chalk, opaque colors on Japanese vellum
(The Albertina Museum, Vienna)

Egon Schiele: Portrait of the Artist's Sister-in-Law, Adele Harms, 1917
Black chalk and body color on Japan paper
(The Albertina Museum, Vienna)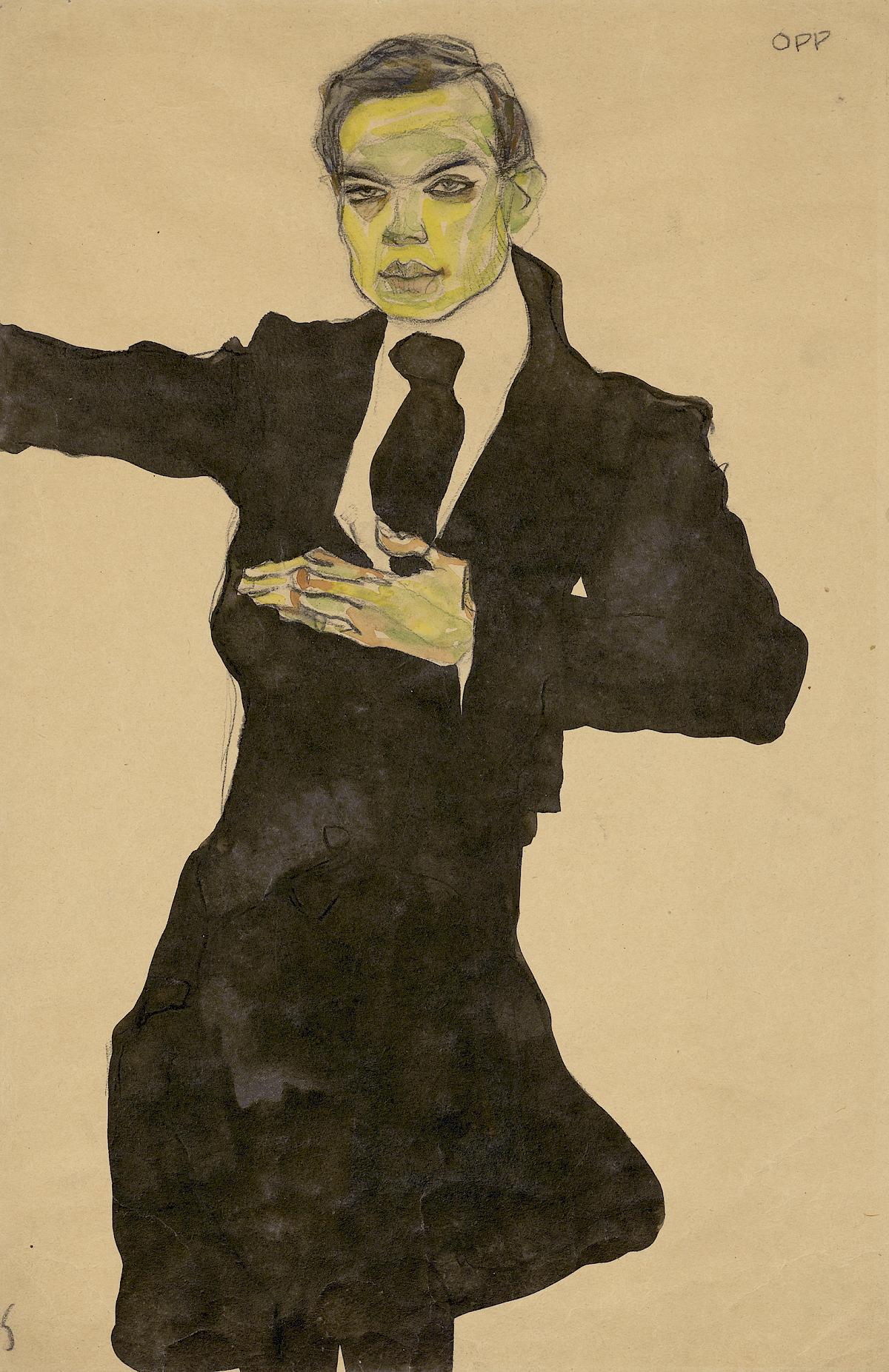 Egon Schiele: The painter Max Oppenheimer, 1910
Black chalk, India ink, watercolor on brown wrapping paper
(The Albertina Museum, Vienna)

Egon Schiele: Female nude with green cap, 1914
Pencil, watercolor, opaque color on Japanese vellum
(The Albertina Museum, Vienna)

Egon Schiele: Nude Self-Portrait, Grimacing, 1910
Pencil, coal, brush, opaque color with protein-based binder and white heightening on wrapping paper
(The Albertina Museum, Vienna)

Egon Schiele: Half-grown peasant girl, 1912
Watercolor, opaque color, pencil on Strathmore Japanese vellum
(The Albertina Museum, Vienna)

Egon Schiele: Child with halo on a flowery meadow, 1909
Pencil, ink on paper
(The Albertina Museum, Vienna)

Egon Schiele: Black-haired nude girl, standing, 1910
Bleistift, Pinsel, Aquarell mit proteinhaltigen Bindemitteln, Deckweiß, auf Packpapier
(The Albertina Museum, Vienna)

Egon Schiele: Self-Portrait in Yellow Vest, 1914, 1914
Pencil and body color on Japan paper
(The Albertina Museum, Vienna)

Egon Schiele: Self-Portrait in orange Jacket, 1913
Pencil, Watercolor, Opaque Colors on Japanese Vellum
(The Albertina Museum, Vienna)

Egon Schiele: Self-portrait pulling down an eyelid, 1910
Chalk, brush, watercolor, opaque color on brown wrapping paper
(The Albertina Museum, Vienna)

Egon Schiele: Seated woman with pushed up dress, 1914
Pencil, watercolor, opaque color with protein-based binder, on Japanese vellum
(The Albertina Museum, Vienna)

Egon Schiele: Seated Female Nude, leaning on Ellbows, 1914
Pencil, watercolor, on Japanese vellum
(The Albertina Museum, Vienna)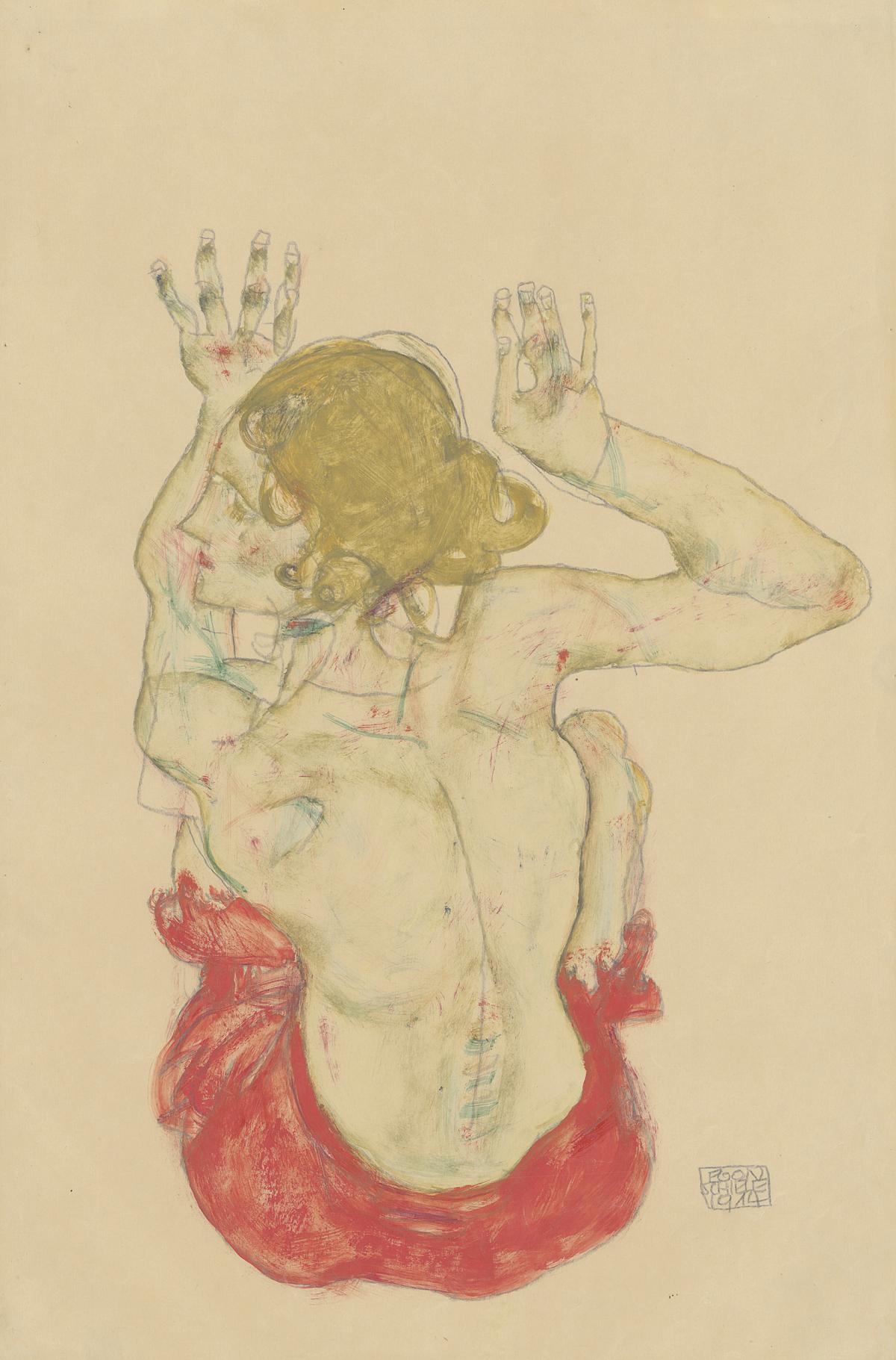 Egon Schiele: Seated Female Nude, Back View, with Red Skirt, 1914
Pencil, opaque color, watercolor on Japanese vellum
(The Albertina Museum, Vienna)

Egon Schiele: Seated Couple, 1915
Pencil, brush and watercolor Pencil, brush and watercolor
(The Albertina Museum, Vienna)

Egon Schiele: Sunflowers, 1911
Pencil, watercolor
(The Albertina Museum, Vienna)

Egon Schiele: Fishingboat of Trieste, 1912
Watercolor, opaque color, pencil on Strathmore Japanese vellum
(The Albertina Museum, Vienna)

Egon Schiele: Female couple, 1915
Opaque color, pencil
(The Albertina Museum, Vienna)

Egon Schiele: Two Girlfriends, 1915
Pencil, watercolor and gouache on paper
(Szépművészeti Múzeum, Budapest)

Wiener Werkstätte: Edith Schiele's evening shoes, 1912
Printed silk and Russell cord, laced closure with black silk laces, black metal eyes, medium-height heels, leather soles
(Wiener Werkstätte, print design: "Osterglocken" [Easter Bells] (1910/12) The Albertina Museum, Vienna)